Overview
THE FERRARI CALIFORNIA T IS THE LATEST RELEASE FROM A DISTINGUISHED LINE OF CALIFORNIA MODELS. SINCE THE INTRODUCTION OF THE 1957 CALIFORNIA 250 GT, THIS LINE HAS BEEN RENOWNED FOR ELEGANCE, SPORTINESS, VERSATILITY AND PERFORMANCE.
The re-innovated California T is a car worthy of any automobile aficionado or a discerning client seeking a majestically comfortable daily drive.
The California T, while a masterful modernization of the 2008 California also retains every essence of the legendary Ferrari DNA.
The new turbocharged Ferrari V8 engine, a result of painstaking craft and cutting edge innovation is now back at the heart of our latest piece of artistry. Capable of razor sharp responsiveness, blistering performance with an exhilarating soundtrack, backed by turbo technology, it is in every respect a classic Ferrari engine.
BRILLIANT EXPRESSION OF FERRARI'S DNA
Maranello's engineers have managed to design a remarkable power unit that combines classic Ferrari engine qualities, such as razor-sharp responsiveness, blistering performance, superbly powerful acceleration at all speeds and an exhilarating soundtrack, with the advantages turbo technology, such as drastically reduced emissions and fuel consumption, a high specific power output and compact dimensions. A genuinely unprecedented achievement that sets a new benchmark for the industry.
The 3.8l V8 delivers 553 hp (142bhp/l, a leader in this category) and a maximum torque of 557 lb/ft in 7th gear. Despite an output of 70 extra horsepower and a massive 49% more torque, fuel consumption has fallen by 15%. As a result, range has increased approximately by 20%.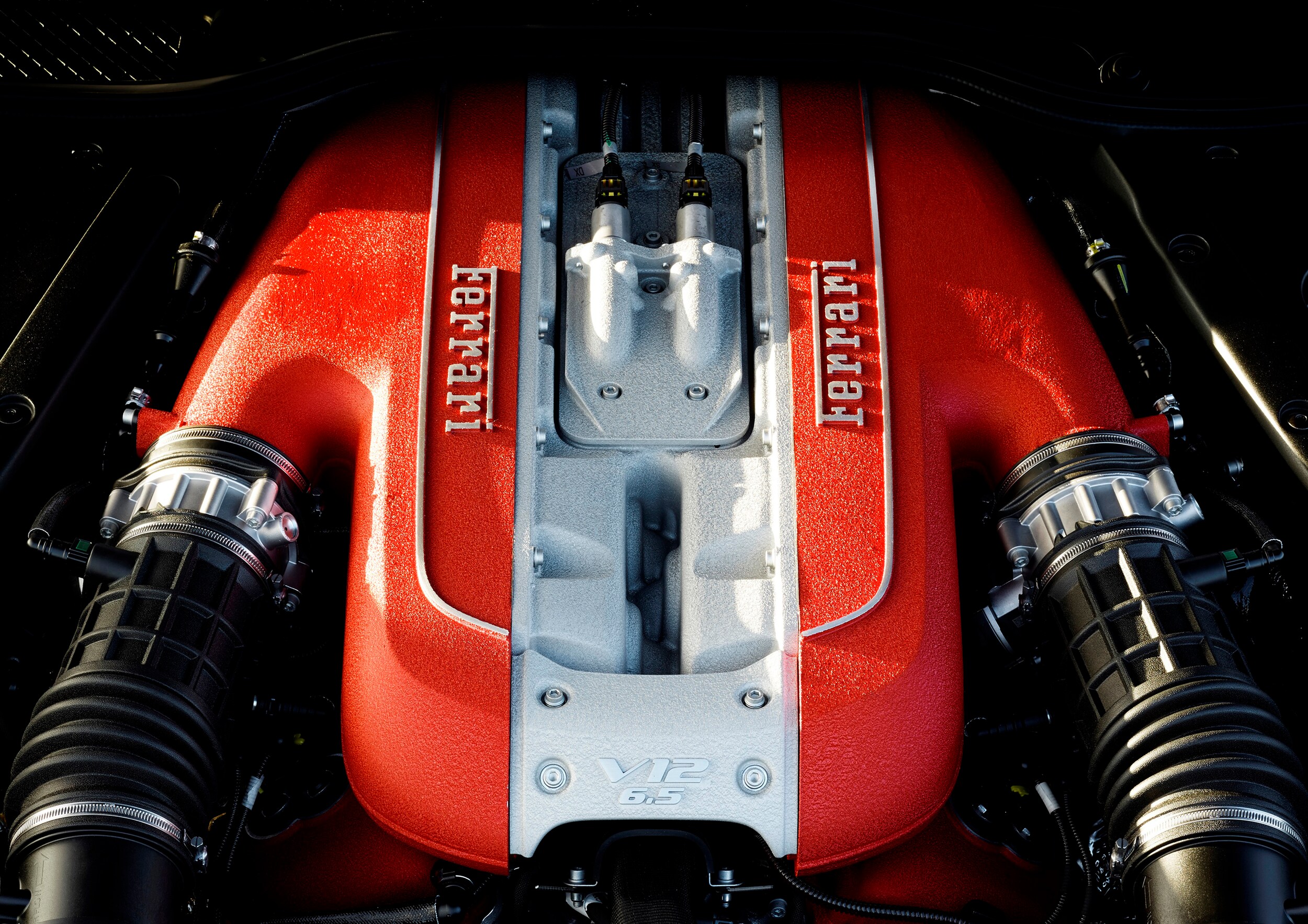 Powertrain
The use of the F1 derived flat-plane crankshaft and innovative twin-scroll turbines, along with the cutting of overall mass and inertia has also virtually eliminated turbo lag. The torque curve increases constantly across the rev range due to the proprietary Variable Boost Management software that adjusts torque delivery to suit the gear engaged.
Retractable Hard Top
JUST 14 SECONDS. AND THE CALIFORNIA T CONVERTS FROM A SOPHISTICATED COUPE TO A SLEEK, STATEMENT-MAKING CONVERTIBLE, COURTESY OF ITS LIGHTWEIGHT RETRACTABLE HARD TOP (RHT).
This is achieved by having the cover and top move simultaneously, greatly reducing the wait time. The optimization of roof packaging also allows for ample space in the cabin and luggage compartment.
Dynamics
SUBLIME FORM AND AESTHETICS, IMPROVED INPUT RESPONSE AND AN INNOVATIVE WORLD FIRST TURBO V8 — THESE ARE HALLMARKS OF EVERY FERRARI, AND THE CALIFORNIA T IS NO EXCEPTION.
Boasting true sports car dynamics, relaxed steering wheel activity and increased responsiveness as a result of a new steering box and mechanical setup, this Ferrari guarantees consistent pleasure behind the wheel in both challenging and daily driving conditions; a commitment to the classic Grand Tourer experience.
New springs and the latest Magnaride shock absorbers (more than 50% faster) combined with body motion accelerometers reduce roll and pitch to deliver more precise handling without compromising on riding comfort.
The cutting edge electronic systems include the latest evolution of the F1-Trac, SCM3 magnetorheological suspensions and ESP 8.0 Premium; integrated with the CCM3 braking system to manage the high performance ABS.
Architecture
THE CALIFORNIA T'S STRIKINGLY COMPACT DESIGN BOOSTS ITS SPORTS LIKE HANDLING DYNAMICS WITHOUT COMPROMISING ON GENEROUS CABIN SPACE.
Other handling enhancements include the engine being lowered (40mm lower than the previous California) and the transaxle architecture providing perfect weight distribution with a slight bias to the rear as per Ferrari tradition (47% front, 53% rear).
With both chassis and bodyshell made entirely from aluminum, safety and performance have now been increased as a result of higher torsional rigidity, a particularly important factor for a drop-top car.